Skip to Content
Chicago Art Museum Hotel
The Art
of Now
A reset in cultural engagement, the museum at 21c offers extraordinary art from world-renowned contemporary artists, free and open to the public 24 hours a day, 365 days a year. Let curiosity take the lead and discover a beautifully curated experience with every stay.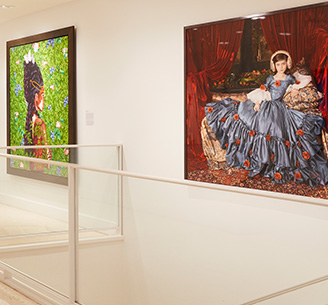 Current Exhibitions
Pop Stars!
Chief Curator Alice Gray Stites brings multi-media exhibition Pop Stars! Popular Culture and Contemporary Art to 21c Chicago. Illuminating the intersection of celebrity, commerce, technology and the media, Pop Stars! features over 90 works of art by 55 artists from across the globe.
juli lowe | Pop Stars
Nick Cave
Wallpaper
As a way to bring the energy and impetus of Nick Cave's artwork outside of traditional museum walls, Cave, in collaboration with his design partner Bob Faust, has created nine unique patterns that pair in various ways to result in sixteen floors of Wallworks, installed in the elevator lobbies on floors 2-17.
Colleen
Plumb
Colleen Plumb makes photographs, videos, and installations that look at the complex and contradictory relationships people have with the natural world. Holding Rhythm, 2022 is the first commission made for Elevate: Rm 921 and interlaces scenes of animals in captivity with serene moments in nature.
Learn More
Irene
Hsiao
Irene Hsiao, 21c Chicago's first Artist in Residence, creates dance and performance through object-driven inquiry with museum spaces, exhibitions, and artworks. Blue Alice explores 21c Chicago's current exhibition, Pop Stars!.
Learn More
Bob
Faust
Bob Faust is the principal and creative director for Faust, a cultural branding and communications studio operating at the intersection of art and design that results in absorptive visual experiences based in Chicago.

Photo by Sandro
Learn More
Nick
Cave
Nick Cave is an artist, educator and foremost a messenger, working between the visual and performing arts through a wide range of mediums including sculpture, installation, video, sound and performance.
Learn More
Jenny
Lam
Jenny Lam is a self-taught artist, independent curator, and writer. Dreams of a City is city-wide interactive public art and mapping project in which all guests and visitors to 21c Museum Hotel Chicago are invited to take part by filling out a postcard with a prompt. Upon completion, postcards can be returned to the Front Desk or sent via any mailbox at any other time.
Learn More
Kelly
Kristin Jones
Kelly Kristin Jones's photo-based interventions and counter monuments unsettle well-worn imperial attributes to consider alternative vocabularies. Drawing on various sites, Rib of Disaster explores ways that white women subconsciously uphold the aesthetics of white dominance and spatialize their supremacy.
Tanya
Lunina
In her ongoing series, Rhythm of the Lake, photographer Tanya Lunina directs her camera at Lake Michigan in Chicago. Solitude within the open space and the various moods of the lake draw Lunina to the expanse of this body of water. Her frequent visits to the lakefront reveal a personal interpretation of a place in the city where the built environment meets the natural landscape. Learn more here.